Ecommerce Portal Developed with Digital Custom Ring Designer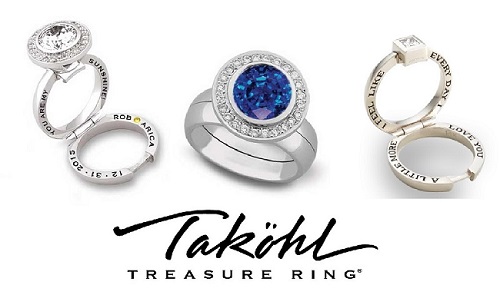 Self Service Custom Ring Designer
Solution: E-Commerce, B2C E-Commerce
Industry: Retail & Distribution, Consumer Goods
Project: Self Service Custom Ring Designer
Client: Taköhl Design
Taköhl Design is a thriving jewelry design company located in the heart of Chicago's growing Randolph Street Market district. Though the company principal Tammy Köhl does some custom jewelry collections for entities such as the Museum of Contemporary Art, the heart of the company is its patented Treasure Ring® collection.
Challenge: Need for Ecommerce and a Revitalized Marketplace Presence
The company developed great offline ways to sell their entire Treasure Ring® experience including ring samples being sent to retailers and a "Treasure Ring® Gift Box" concept that extends the experience of buying a Treasure Ring® through time and space, into the homes and hearts of the customers. However, the fun and interactive potential of the company's Treasure Ring® brand was not being fully realized in an online experience and had an overly manual ordering process that presented a large challenge from costly errors.
Solution: Dunn Solutions Develops Ecommerce site with Digital Custom Ring Designer
Dunn Solutions created an ecommerce platform to revitalize Taköhl Designs presence in the marketplace by adding an element of fun and excitement to the site. This was achieved by giving the customer the power to "create" their own Treasure Ring® on any device they choose being desktop, tablet, or mobile. Our team created a personlized experience by allowing customers to be able to select each element of the ring's design including personalized message engraving, gem stone selection, and metal choice given a wide variety of options. The customer may then share their creation directly from the platform for a more simple and personal experience, while aslo marketing Taköhl Jewelers products. Additionally, our team developed an online ordering system that improves and optimizes the orders that are recieved from both the consumer direct and retailer channels, reducing costly errors and allowing Taköhl to focus on growing sales and increasing marketing efforts. Dunn solutions was also able to achieve the element of fun and excitement for Taköhl Jewelers by redesigning the company's print and online materials with a more clean, modern look & feel with a greater focus on the products.
Result: Improved Brand Image & Digital Experience, Increased Sales
Working with Taköhl, Dunn Solutions Group delivered an attractive, effective ecommerce solution that included a fully customizable digital experience for customers along with outstanding marketing materials that supports the Taköhl brand and drives sales through the newly optimized ordering experience. This work serves as a powerful, 24x7 base of operations that improves operational efficiency and changes the way the Taköhl brand is perceived by customers and retailers.